SC Metal, s.r.o. company was founded in 2004. Today, it is one of the largest companies in the Czech Republic providing services in the field of sheet metal processing and in wholesale of metallurgical material.
We use the most modern technologies for our production located in two production plants in Přibyslav and Tábor. At this moment, our company is employing more than 120 qualified employees and it holds the following certificates; ISO 9001:2015 and 14001:2015. Since its inception, the company has been focusing on customers with high quality requirements and it is a key supplier for companies operating in the following sectors; electrical engineering, HVAC, food industry, design, automotive industry…
SC Metal has its own client access system characterised by a high flexibility in production and logistics.
We sponsor
Cycling Academy Tábor
At the beginning of 2016, SC Metal decided to support young talents of the cycling world and became the main sponsor of the newly created cycling team – Cycling Academy Tábor.
We wish to all young and talented cyclists lots of sporting achievements and especially a good health.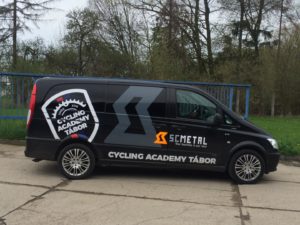 Marek Pochtiol
Our company supports one of the greatest talents of the Czech Biketrial, a rider who is also a member of the club Trial Žižkovo Pole Marek Pochtiola. He has been a permanent member of the Biketrial representative team since 2010. He is a seven-time champion in the Czech Republic across all age groups in which he competed. He is also a holder of the European vice-champion title 2016 awared in Sardinia. In 2017, he became a world champion in the competition among nations in Denmark. In 2017, he joined the ELITE World Cup and has been gaining an experience ever since, although he is still in the junior age category.